Using Reddit To Drive Traffic is an incredibly easy way to drive super targeted traffic to your email marketing funnel.
In today's post we're going to dive into the
5 Secrets To Using Reddit To Drive Traffic.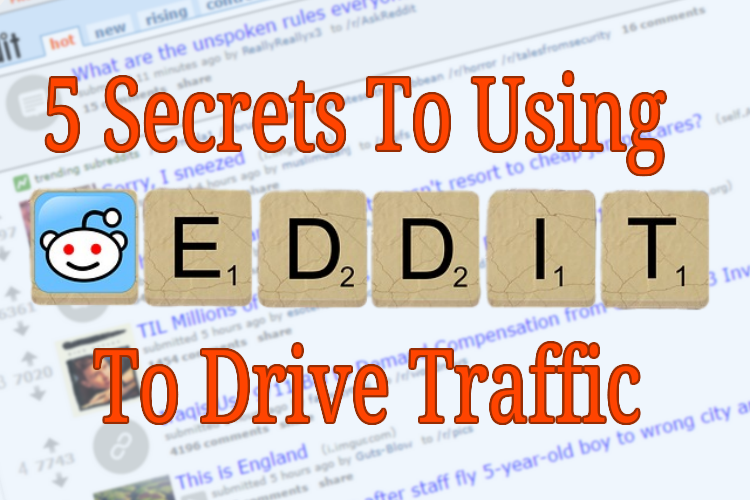 Most of us have heard about Reddit and some of us may even be a member of the popular social media forum. But did you know you could be using Reddit to Drive Traffic?
If you think about it…advertising has been around long before the advent of the Internet. Businesses used to advertise their products or services using TV, print, and radio, however, from time to time there comes other different opportunities like the Reddit platform, which, when leveraged correctly, could result in a massive ROI for those that take advantage of them in new and unique ways.
Today, Facebook advertising has packed itself on to Google AdWords and Youtube pre-roll ads as the sort of mainstream of modern advertising. With that said, however, there are other platforms you may want to take a look into, even if they don't often make the rounds in online marketing circles. While there are more than one, today we're going to explore Reddit and the 6 Secrets To Using Reddit To Drive Traffic…so let's get into it.
What is Reddit
For those of you who are unfamilar or have never heard of Reddit, it's an online community divided into thousands of sub-communities where people share, comment, and vote upon submitted content related to a common interest group.
For example, there's a subreddit where people discuss photography and share their work, another where Android developers share tips and tricks for building mobile apps, yet another where rappers and music producers collaborate on new pieces, and one of my favorites is the Photoshop challenge.
The point is, there are hyper-targeted communities around just about any conceivable interest, and those interests will undoubtedly overlap with your target markets. The best part? You can totally advertise to individual interests communities.
Here's 5 Secrets To Using Reddit To Drive Traffic:
1) The "creative"
The creative, or ad content, that you will use to make up your actual ad is a little different on reddit. In most cases, your promoted link to a landing page will be shown at the top of one of the sub-communities as a small thumbnail image and a couple lines of text.
You get several hundred characters to use, which allows you to write a descriptive and enticing headline. You should also choose a thumbnail image which is interesting enough to entice a click (an image with a real person, like yourself, does well).
I remember a few years ago watching a webinar where author, speaker and owner of DotComSecrets Russell Brunson had said you sell the click…not the product. Remember that saying the next time you're writing your ads or your content.

2) Make A Descriptive Landing Page
Because other ad creatives on sites like Facebook would allow you to have more words and larger images to illustrate what you're selling, you can afford to not explain things as in-depth on your landing page. However, when you're using Reddit To Drive Traffic, you'll need to treat your landing page as a one stop shop where people can obtain all the information they could possibly need before making a decision.
3) Know Your Audience
It's supper important to know your audience whenever you're advertising on a platform and targeting specific people within that platform. Knowing your audience really means two different things.
First, it means knowing your target market, the people whose interests or job titles you're using to target your ads, but it also means knowing the subset of that group that uses the specific platform you're advertising on. It means knowing what their mindset is when they see your ad, how they browse the site and engage with it, etc.
Reddit In General Is A Fairly Educated Audience
Reddits userbase is full of critical thinkers. That means that the traditional habit of writing overly hyped and optimistic ad copy that many marketers and their copywriting associates have might not serve you as well here.
Honesty is the name of the game, and you'll even get a message from reddit when creating your advertisement that lets you know that the Reddit community generally appreciates your ads that engage them.
4) Respond To Comments
When your ad goes live on reddit, people may want to comment on your ads and ask questions. It's very important to always answer them.
Additionally, Reddit is a smart and critical community, so they may ask tough questions, the best thing you can do is be honest and humble – never engage in an argument on your own ads!
Done right, using Reddit To Drive Traffic can be a massive advertising opportunity, a hidden gem in which 1,000 impressions can go for as little as $1.50.
The old saying "When In Rome" comes to mind when using Reddit to drive traffic. What I mean by that is you'll need to learn to speak the unique language of the Reddit platform. By doing so your dollars will be going further than every other marketer who's stuck in the mainstream.
5) What Have You Got For Them?
The personal experience of some advertisers Using Reddit To Drive Traffic would lead you to conclude as well that, beyond just "engaging" with people you're targeting your ads to, you should also think about offering them something special for taking the time to engage with you as well.
For example, several case studies of brands advertising on Reddit have had substantial success when they have created a special discount or deal exclusively for Reddit, and made that special treatment clear in the coop of their ad.
For example, Reddit can be a great place to try out new product offerings without spending a fortune, so you could offer your services or products free for a limited time or at a flat discount when people use a discount code only given away in your Reddit ads.
Using Reddit To Drive Traffic through ads is a largely untapped gold mine for many brands, but using them correctly is essential to your success.
Of course, once you are getting traffic from your Reddit ads you need to make sure you're split testing and optimizing your sales pages.

PS. For an AWESOME book with the results of 108 split tests you can use to tweak your website you've gotta check this out! The best part is, the book is FREE right now (just pay the shipping and handling to get it to you).
Check it out here:
108 Proven Split Test Winners Book