Today I'd like to share a few ways to drive targeted traffic, because without targeted traffic being sent to your marketing sales funnel nothing happens right.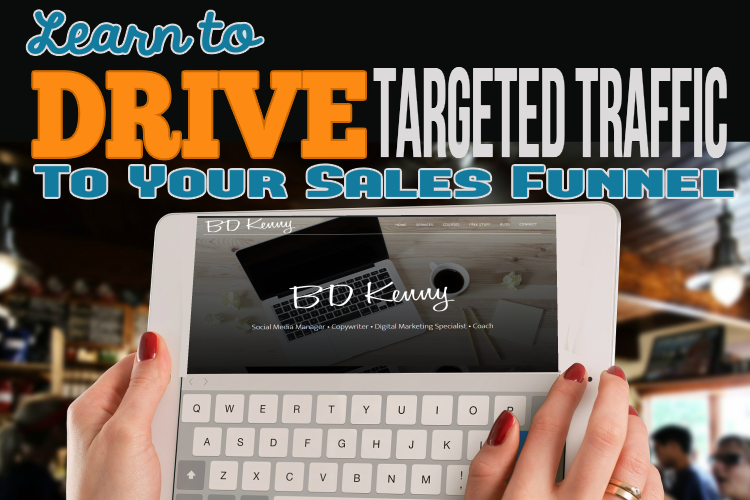 It's imperative that you learn to drive targeted traffic to your virtual real estate. Simply put, you need traffic to get people to your squeeze page to sign up for your freebies, sign up to your mailing lists and then you can begin building that all important relationship which eventually leads to sales.
Without targeted traffic…nobody actually visits your page, if there is no traffic… it doesn't matter how good your products are, it doesn't matter how well thought out your sales funnel is, nothing is going to happen. If a tree falls in the forest…or if a websites build with no traffic…does it really exist? It sure does…and we know that because you probably spent a pretty penny either having your sales funnel built for you or worst, you lost your precious time building it yourself!
So, let's make sure you know a few of the best ways to drive targeted traffic to your web property
Now it's also important to mention at this point that not all traffic is good traffic. There are basically 2 types of traffic…regular traffic and targeted traffic.
Driving Traffic VS Driving Targeted Traffic
So as I mentioned above there are two different types of traffic. The first type of traffic is the regular traffic. Regular traffic is someone who visits your site but has very little interest in your business or your products.
They may have liked an image on Pinterest or clicked on an ad you're running on Facebook that just caught their eye. They may also just want your freebie…we call them the tire kickers. Will they convert into buyers? Maybe, but more then likely they won't and that's fine because you can't please everyone all the time right?
Now the next type of traffic is targeted traffic…this is the highly sought after traffic type…these are the people who are interested in your products or services, they're interested in hearing your marketing messages, they read your content, they watch your videos and eventually they convert to buyers.
So how do we get the targeted traffic rather then the traffic that just eats your sites bandwidth for nothing?
Let's talk about a couple of different ways that you can not only get traffic to your website but targeted traffic.
Content marketing
1.Using Solo Ads To Drive Targeted Traffic
Perhaps one of the best ways and certainly one of the most efficient ways of getting targeted traffic to a squeeze page is via solo ads.
Now the way solo ads work is you pay a list owner, another mailing list owner someone in your same niche to send an email to their list advertising your freebie and then people go to squeeze page and sign up.
This works because it's super targeted, the people on the list are going to be in your niche and they are going to be interested in your giveaway.
It' probably the most cost effective form of advertising if you're just starting out.
Now if possible and this isn't always possible, because it depends on what type of mailing list software the person who owns the list that you are buying into has got. If possible you want to try and split test your ad, so you want to have two different versions of your ad sent to selected portions of the list.
Then you want to see which one converts the best so you can then roll out that message to the entire list, and you know that you are going to get a lot of good responses that way.Now that's said it isn't always possible to do that it depends on the list owner, but if you can do it it's best to do it.
Where can you find list owners who sell solo ads?
Some good places to look are the classified ad section of the Warrior Forum which you'll find here at warriorforum.com/warrior-forum-classified-ads. The Warrior Forum is a forum for marketers, so you can connect with other marketers and you are going to find lots of people on this site who have lists who will be prepared to sell you a solo ad.
You can look at also the different niches from this site from marketers on this site. Another good place to look is on Facebook and in particular this group which is Solo Ads Testimonial and you can find that at facebook.com/groups/soloadstestimonials.
You can see here where people give feedback on solo ad vendors that they've used, and it's a good place to find people who rent their lists out for solo ads.
2.Using Social Media To Drive Targeted Traffic For Free
When I say social media, I mean sites like; Facebook, Twitter, Google Plus, Pinterest, LinkedIn and more.
Now a couple of things to keep in mind here is first and foremost it's imperative that you realize and be aware that it does take time to build a following using social media. It's not going to give you the sort of instant traffic that you are going to get via solo ads.
Another important thing you've got to watch out for is not to violate the network's policies as some social media networks are more open to this sort of use than others.
While it might take a bit of time to really get into each social networking site, the time you spend getting familiar and becoming proficient at will most certainly pay you back 10 fold if you get it right. If you just slap up some nonsense in an attempt to simply drive traffic for free you could be sadly disappointed.
If you haven't read Gary Vaynerchuk's book Jab, Jab, Jab, Right Hook, I highly suggest you pick it up and read it from cover to cover. Gary's the authority on social media and his book is a must read if you're looking at really tapping into the power of using social media to grow your following. You can get the book on Amazon by clicking here
Now regardless of what social media network you're targeting, one of the simplest ways to drive targeted traffic to your squeeze page is to have your squeeze page listed as your website in your social media profile. Most of the social media networks will want you to fill out a profile and there's usually a place where you can put a link back to your website.
You'll be pleasantly surprised to see how many people want to find out more about you and will go look at your profile, they'll see the link and they click it and they're taken to your squeeze page and they'll can sign up.
There are of course a lot more things you need to be doing on social media sites to drive targeted traffic to your virtual real estate, however, these marketing concepts go far beyond the scope of this blog post.
If you're interested in learning how to drive targeted traffic using social media, you can check out my blog post 5 Secrets To Using Reddit To Drive Traffic, where I discuss how using Reddit to Drive Targeted Traffic is an incredibly easy way to drive super targeted traffic to your email marketing funnel.
Regardless of which social media network you're using to drive targeted traffic, A few good rules of thumb are:
Follow lots of people in your niche
Make sure that you are on lots of different lists.
Post great content to your social media site at least twice a day, and it shouldn't be too salesy it should be participating in the discussion that's going on on the social media site.
Share your chosen social media page on your website, you could have a little thing that says, Follow us on Facebook, or, Visit my Google Plus profile, that sort of thing.
Promote your social media page on any marketing material so you want to have it; on your business cards, on posters, on offline ads, on internet ads etc.
3.Forum Marketing To Drive Targeted Traffic
Similar to social media sites are websites which have a forum. There are even websites out there that are only forums. Some have different topics all centered around a main theme. One that comes to mind in the Warriorforum. This site is all about Internet Marketing and all the niches within it.
A site like the Warriorforum could be perceived as being better than social media in lots of ways, but simply put, forums that are very niche specific, tend to be a better options due to the "targeted" traffic it has the possibility of sending. So it's a good idea to search out forum sites that are aimed only at your specific industry or specific interest.
To find a forum in your niche simply head on over to Google, or your favorite search browser and type in
Your Keyword+forum. So for example, if your niche is dogs then you'd type in Dog forum, or if you're a motivational speaker it would be "motivational forum".
What you can do on a forum site is have a link to your squeeze page in your profile as before, the same things apply as on social media.
You can also have a link to your squeeze page in your signature. Just make sure to read the rules of the forum as some forums have certain requirements for example some let you join as a free member but you have to pay in order to have a link in your signature, others will let you have a link on your signature right away, some you have to be at a certain level to have a clickable link in your sig. You need to check with the forum to see exactly what their policies are.
The forum owners just want users to have a positive experience and not just be bombarded with spam and links. This works out perfectly as your main goal is to become an authority in your chosen niche…post great comments and help out in the forum by answering questions and users will definitely click on your links to check out what you've got going on…remember targeted traffic!
4.Using Video To Drive Targeted Traffic
Another great site for driving targeted traffic to your website and to your squeeze page is YouTube.
Now one tactic that you can use on YouTube is to make a short video describing a problem and then explaining that you have a solution…and all they need to do to get your solution is to click the link in the description and download your freebie and then have a clickable link in the description.
The description area where you can link back to your page is the area below the video. You're currently unable to use html to link out, but all you need to do is add the exact link like this http://bdkenny.com, which will make it a clickable link so that people can watch your video, click the link and go to your squeeze page.
5.Driving Traffic With Google AdWords
Be Very Careful if you decide to drive targeted traffic to a squeeze page using Google AdWords.
Now years ago advertising on Google to drive targeted traffic to your sales funnel was like the wild wild west! It was pretty much an ANYTHING GOES attitude!
…and people made millions sending traffic that cost pennies to build email lists, send traffic to CPA offers and affiliate sites that told nothing but half truths and sometime blatant lies to make the sale.
Google, realizing that their ad network would soon lose all credibility if this continued, dropped the hammer and cleaned up the entire program. Thousands of people lost their accounts due to not following the new rules and ways.
So, while you're still able to drive targeted traffic using Google adwords, you really must follow their rules and don't try and game the Adwords program…If they ban you, it's usually for life!
There are certain rules you must abide by to use Google adwords to drive  to your email marketing funnel
I was in the process of writing out all the steps you must follow if you're going to use Google Adwords to drive targeted traffic and then I remembered reading a blog post written by Justin Rondeau over at DigitalMarketer .
He wrote a very detailed post about everything you need to know to create Google Compliant Landing Pages. They even have a downloadable checklist, which I highly advise you download.
So there you have it. My top 5 ways to Drive Targeted traffic. While it's not mandatory to use all of the tactics I wrote about, it's important to start somewhere. Don't let analysis paralysis be the death of your business. Just remember to make a marketing plan and stick with it and you will see results.
Good luck and if you need any help, and are interested in a little one on one consultation over the phone, simply fill out my contact form, and well hop on a call together.